<div style="background-image:url(/live/image/gid/198/width/1600/height/300/crop/1/50546_Middle_South_drone1.rev.1554236092.jpg)"/>
Recent grads earn first-author status
Ellie Bacon '19 and Christopher Edomwande '19 earned first-author status for papers they researched and wrote with Assistant Professor of Biology Flavia Barbosa. 
Bacon's peer-reviewed article, published in Behavior Ecology, is the result

Bacon of her senior thesis. A biology major at Lake Forest, Bacon is now pursuing studies at the University of Illinois College of Veterinary Medicine.  

Edomwande, who conducted research in Barbosa's lab for two years, had his paper published in Scientific Reports. While an undergraduate, Edomwande won the international Genesis Award for best overall undergraduate poster at the 55th annual Animal Behavior Society Conference in 2018.
Currently, the biology major is working as a research assistant at University of Illinois at Chicago.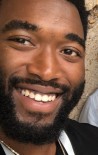 Edomwande
"Lake Forest College has been incredibly supportive throughout this process by providing lab space, testing organisms, and technology for conducting experiments," Edomwande said. "Dr. Barbosa has been an amazing research partner throughout and helped bring this experience to life through her guidance and hard work."
—Peter DiPietro '20