<div style="background-image:url(/live/image/gid/198/width/1600/height/300/crop/1/50546_Middle_South_drone1.rev.1554236092.jpg)"/>
Professor Meyer takes classic literature into a new direction
Though translated into more than 20 languages in nearly 100 years, Professor Don Meyer is among an elite group of artists who has set the poet Khalil Gibran's famed work "The Prophet" to the universal language of music.
Written in 1923, "The Prophet" is a slim, 107-page collection of prose poetry fables that was among the best-selling books of the 20th century. Selling more than 9 million copies in the US alone, "The Prophet" is one of the most translated books in history.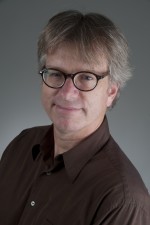 "I have always found the quality of the language intriguing, and when I learned that the book had come into the public domain, I knew this would be a perfect vehicle for one of my music projects," said Meyer, professor of music. "I also knew we had a talented group of student musicians this year and was excited about the opportunity to feature them on the album."
Inspired, Meyer spent last summer writing original music to 15 of the book's 26 poems with specific student musicians and a student narrator in mind. The resulting pieces were performed in a combined live music and spoken word concert in Lily Reid Holt Memorial Chapel on November 21.
Meyer hand-picked Fernand Qvyjt '20 to provide the vocal narration. "I was so happy to help Professor Meyer on this project," Qvyjt said. "I wanted to give back to him for helping me so much throughout my four years at the College."
Pianist Tam Nguyen '20 felt much the same. "I think the whole idea and concept of this album is very unique," she said. "I was struck by the beautiful words and I love that the performance features real musicians who are students, like me. I was very excited to be performing at the concert as part of this fantastic ensemble."
The pieces, featuring nine student musicians, a narrator, and Meyer, is available on CD. The CD was recorded in the Lake Forest sound studio V/ES Lachot Design Group, which is headed by Dustin Bennett who has a Lake Forest College connection: He is the grandson of late Lake Forest College Professor of English Ken Bennett. 
—Peter DiPietro '20