<div style="background-image:url(/live/image/gid/198/width/1600/height/300/crop/1/50546_Middle_South_drone1.rev.1554236092.jpg)"/>
Is your student ready for Career Month?
Career Month is February! Throughout the month, the Career Advancement Center will host events across the Career Pathways designed to help students achieve their career goals. 
Students are encouraged to celebrate Career Month by attending events that will help them get connected to experienced alumni and professionals as well as top employment opportunities within their Career Pathway—and make plans for their summer and post-graduation.
The Career Month line-up includes a chemistry panel and networking session, a lecture from freelance writer and PR professional Megy Karydes,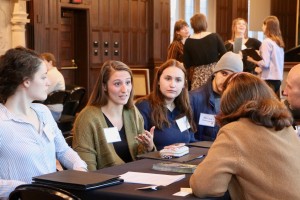 a Business and Finance Pathway Employer Showcase, and more! More details will be added soon to the campus calendar.
These events are designed to help students build their networks and learn how they can define their unique career path at the College and beyond. Valdrin Halitjaha '22 said of last year's Employer Showcase, "There were so many professionals who were more than happy to connect with me and offer help for any other questions I had regarding my career path."
In addition to events across the Pathways, every week during Career Month the Career Advancement Center's drop-in Express Advising from 11a.m. to 1p.m. Monday–Friday in the Mohr Student Center will have a special theme related to developing professional skills, from resumes to elevator pitches. Students can set a goal for themselves to drop by every week and discuss the weekly topic with a career advisor and enter for a chance to win prizes.
Students can also look ahead to Career-A-Palooza on Thursday, March 19, a conference-style event designed to help students build the essential skills they need to hit the ground running and stand out in the job- and internship-application process.
Encourage your student to use winter break as a time to prepare for Career Month as well as summer and post-graduate opportunities. Students received a checklist of action items they can complete over winter break as well as job and internship search resources.
"Winter break is an excellent time for students to take stock of their career exploration so far and plan their next steps," said Interim Director of the Career Advancement Center Colleen Monks. "A little preparation on their career now can make all the difference in finding opportunities for the summer and beyond and ensuring students are ready to take action once they arrive back on campus."