<div style="background-image:url(/live/image/gid/198/width/1600/height/300/crop/1/50546_Middle_South_drone1.rev.1554236092.jpg)"/>
Year in review: Top stories of 2019
As students and faculty return to campus to start the new semester and a new decade, we offer a look back at the College's top stories of 2019.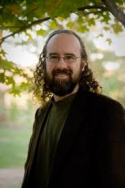 Zeller's Heaven's Gate podcast topped 4 million downloads.
In January, the Heaven's Gate podcast that featured extensive interviews with Associate Professor of Religion Ben Zeller topped an extraordinary 4 million downloads since its debut in October 2017. Producers turned to Zeller, who wrote Heaven's Gate: America's UFO Religion, for his insight on the group's 1997 mass suicide.  
$1.1 million Mellon grant awarded to support Humanities 2020. 
In February, the College announced a $1.1 million grant from The Andrew W. Mellon Foundation to link faculty, students, and Chicago-area institutional partners in efforts to understand the history and current status of race relations in Chicago. Humanities 2020 will create positive change in the city and the lives of its residents.
Men's basketball qualified for NCAA DIII Tourney for first time.
Also in February, the men's basketball team headed to the NCAA Division III Tournament after achieving a 12-6 conference record and winning the conference championship. The DIII Tournament trip was a first for Forester men's basketball. 
Heath Ogawa '19 named four-time National Diver of the Year.
In March, Heath Ogawa '19 and Coach Nathan Lightman were named Division III Diver and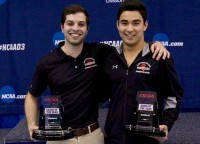 Diving Coach of the Year after Ogawa added a fourth-place finish in 3-meter diving to the national title he captured off the 1-meter board. The awards were bestowed by the College Swimming Coaches Association of America.
Two juniors named Goldwater Scholars.
In April, Niam Abeysiriwardena '20 and Samuel Gascoigne '20 learned they received prestigious Goldwater Scholarships, which are awarded annually to outstanding undergraduates interested in careers in mathematics, the natural sciences, or engineering. This was only the second time the highly coveted scholarship was awarded to a Lake Forest College student.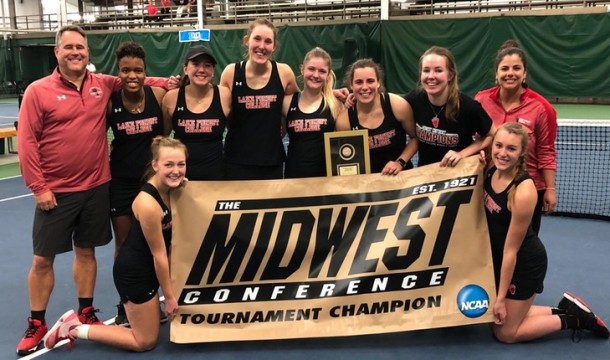 Outstanding season for women's tennis, softball, and men's golf.
In May, Lake Forest College's women's tennis team defeated Grinnell College at the Midwest Conference Tournament final and qualified for the NCAA Division III Tournament for the first time in program history. Also, on the same day the softball team claimed victory over St. Norbert College in the championship round of the 2019 Midwest Conference Tournament, the men's golf team secured victory of the 2019 Midwest Conference Championship Tournament.
Professor Jason Cody named Fulbright Scholar.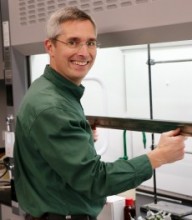 Also in May, Professor and Chair of Chemistry Jason Cody received a Fulbright US Scholar Program award in chemistry. Since August, Cody has been supervising research and teaching at Université Hasan II, Faculté de Science et Technologie, in Mohammedia, Morocco, as part of a project to explore applications of chemistry to renewable energy. Cody will return to campus in August.
Don Meyer and student musicians collaborated on unique take on Gibran's The Prophet.
Professor Don Meyer spent his summer writing original music to accompany poet Khalil Gibran's famed work, The Prophet, and recording a CD with the help of Forester student-musicians. In November, Meyer and his students offered a live performance of their work.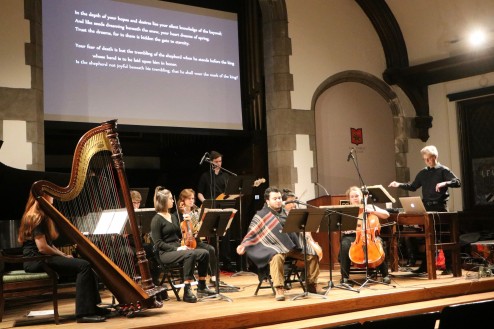 LFC-RFUMS Summer Scholars partnership celebrated 10 years.
The Lake Forest College-Rosalind Franklin University of Medicine and Science summer research program reached the 10-year mark. Since its inception in 2009, more than 100 Foresters gained career-making research experience in a medical school lab through this unique partnership.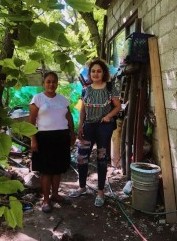 Carolina Guadarrama '19 brought clean water to Mexico village via Davis Project.
Carolina Guadarrama '19 spent time after graduation planning, researching, and implementing a life-changing water project in the town of Morelos, Mexico. Made possible by a Davis Projects for Peace grant, her summer project brought much-needed water to the community.

Three Foresters offered National Science Foundation Fellowships.
In August, Foresters Jeanne McDonald '19, Kayla Huber '16, and Omid Saleh Ziabari '15 learned they received National Science Foundation Graduate Research Fellowships. This prestigious program provides up to three years of graduate study support for US students pursuing doctoral research-based degrees in STEM, STEM education, and social science fields. 
Ahmad Sadri returns to campus after bringing his artistic vision to life.
Professor of Islamic World Studies and Sociology Ahmad Sadri returned to campus after spending his spring semester sabbatical traveling across the country to deliver live performances of his production, "Heroes Take Their Stands," with Yo-Yo Ma and the Silk Road Ensemble. This production challenged cultural and racial tensions with its modern take on world mythology.
Lake Forest College rose in national rankings across the board.
Also in late summer, Lake Forest College was recognized by U.S. News & World Report as a top-tier school in its Best National Liberal Arts Colleges ranking. The College also rose to #14 in the nation for best health services and to #9 for its internship programs by The Princeton Review's annual guide.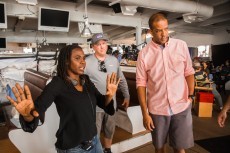 Hanelle M. Culpepper '92 directed Star Trek: Picard premiere.
Having directed a number of successful drama and genre shows, such as Supergirl and Gotham, Hollywood buzzed when Hanelle M. Culpepper '92 was named the first female to launch a new Star Trek series.
Christian Jullerat '16 recognized by US Department of Energy.
In September, Christian Juillerat '16, a PhD student in chemistry at the University of South Carolina, was awarded a first-place prize in the Innovations in Nuclear Technology R&D Awards sponsored by the US Department of Energy, Office of Nuclear Technology R&D. 
Lake Forest College announced varsity lacrosse teams in fall 2021.
In October, the College announced that it will add men's and women's lacrosse to its slate of varsity athletic programs in the 2021–22 academic year. The College has had a club team for lacrosse for many years, but will compete in conference competitions and at the NCAA Division III level in fall 2021. 
Julie Lord '21 repeats as Midwest Conference tennis champ at #1 doubles and #1 singles.
Also in October, Julie Lord '21 successfully defended her Midwest Conference title at #1 singles in tennis and her title spot with partner Leeza Bodnar '20 in the doubles tournament.
First on-campus archaeological dig drew media attention.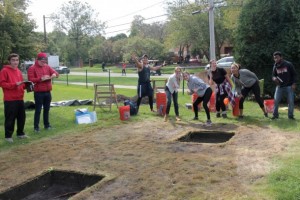 Students in Associate Professor of Anthropology Rebecca Graff's Archaeological Field Methods course worked during the fall semester to unearth traces of a church on South Campus in the first archaeological dig on campus. An Open House and Media Day was held in November.