<div style="background-image:url(/live/image/gid/198/width/1600/height/300/crop/1/50546_Middle_South_drone1.rev.1554236092.jpg)"/>
On-campus archaeological dig draws media attention
Students in Associate Professor of Anthropology Rebecca Graff's Archaeological Field Methods course have been working all semester to unearth traces of a church on South Campus and held an Open House and Media Day on Thursday.
The event drew several news outlets, including the Daily Herald, The Lake County News-Sun/Chicago Tribune, and 22nd Century Media, to cover the findings of the archaeology students who excavated the church site.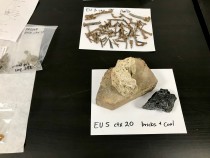 Graff is leading her students in SOAN 215: Archaeological Field Methods class in an archaeological dig at the previous site of the African Methodist Episcopal Church of Lake Forest, which served as a place of worship from its construction in 1870 to the 1920s. The goal of this project is to unearth further information about and awareness of the past and present African American communities of the North Shore and Chicago.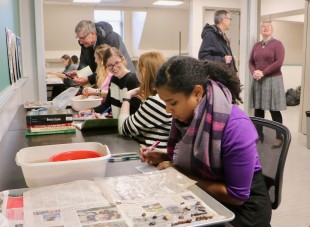 During the Open House, visitors watched students in the new archaeology lab clean and examine artifacts from the excavation site, which is located at the corner of Washington Avenue and South Campus Drive. The expanded archaeology lab located on the third floor of Hotchkiss Hall opened this fall.
"The research Dr. Graff and her students are doing is absolutely crucial to creating a fuller picture of our community's history," said Laurie Stein, curator of the History Center of Lake Forest-Lake Bluff. "We're eager to find out more about the role the AME church and its members played in Lake Forest. Much of the church's activity is absent from the documentary record and this project can help to fill in those gaps."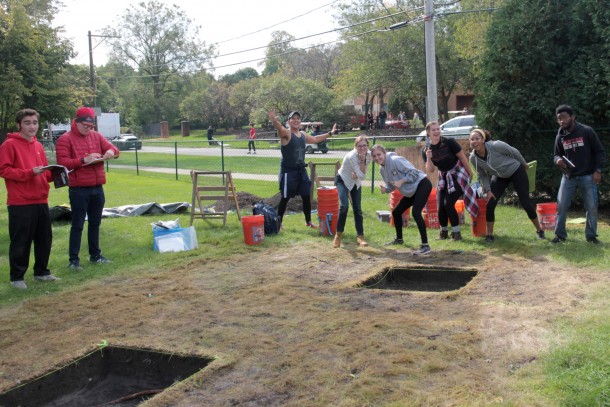 Credit: Ryan Cook