<div style="background-image:url(/live/image/gid/198/width/1600/height/300/crop/1/50546_Middle_South_drone1.rev.1554236092.jpg)"/>
Speed Networking helps set students up for success
A Forester for just two months, transfer student Julia Peck '21 made connections with nearly a dozen professionals during the 2019 Speed Networking event—an important opportunity that already has jumpstarted her career exploration.
Peck's goal going in to the Career Advancement Center's signature fall event was to connect with companies offering internships in marketing or human resources. "I hoped to learn more about those fields and see if I fit in either of them," she  said. "I was just looking to meet professionals, honestly. I've never networked before, so this was a good first step for me. I definitely got to practice networking."
Peck was among the record number of more than 180 students who registered for the 2019 Speed Networking event, which was held on October 10 and drew 96 professionals, including many alums from across the College's Career Pathway communities. The psychology major and music minor, who spent a year at Northwestern University, transferred to Lake Forest College for its career preparation, among other reasons.
"I chose Lake Forest College because of the career opportunities and the help that the Career Advancement Center provides for students when looking for internships and jobs. I like the support that is offered here," she said.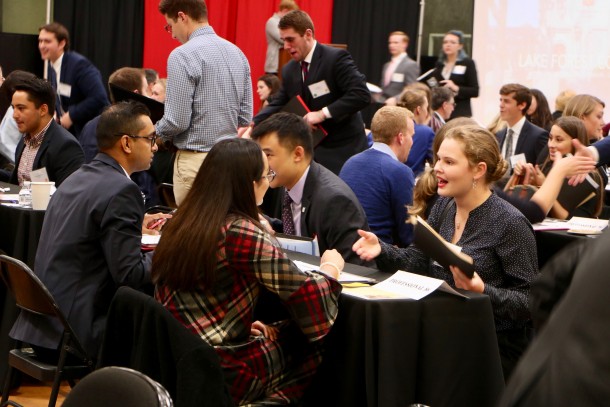 Credit: Hannah Strassburger '20
Rodney Bethea '20, a double major in communication and Spanish who is minoring in sociology and anthropology, also made important connections toward a second for-credit internship. "Initially going into Speed Networking, I wanted to figure out what to do with the skill set that I have. I have a lot of job interests," he said. 
After nine one-on-one conversations with professionals from non-profit organizations to tech companies and four more meet-and-greets during the new Career Pathway mingling session, Bethea said he "definitely has a lot more clarity" on what he can do after graduation. "I was trying to key in and find something that I specifically want to do, and Speed Networking just broadened my scope a lot more," he said. "I actually feel a bit more confident, knowing that I can do so many things."
Keeping networking conversations going is an important tool in career development, keynote speaker Devin Tyler '17 of Axiom Consulting said. Tyler shared how networking helped him to land his first job out of college as well as the importance of pursuing networking relationships even when there is no immediate end-result in sight.
"Having polished networking skills and building a robust network of professionals from a variety of different industries are keys to success in today's job market," said Interim Director for the Career Advancement Center Colleen Monks. "Speed Networking provides students from all majors the opportunity to get a jumpstart on that, and to begin important career conversations, many of which will last long after the event."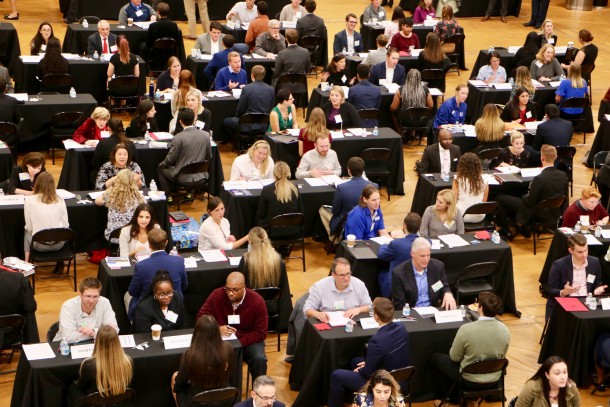 Credit: Hannah Strassburger '20