<div style="background-image:url(/live/image/gid/198/width/1600/height/300/crop/1/50546_Middle_South_drone1.rev.1554236092.jpg)"/>
Fulbrighter Jason Cody helps judge first solar decathlon in Africa
Professor of Chemistry Jason Cody, on sabbatical as a Fulbright Scholar at Université Hassan II, Mohammedia in Morocco, continued his explorations of renewable energy while serving on the jury of the first-ever Solar Decathlon Africa.
"Solar Decathlon Africa is a competition between teams of university students to build the best solar house," Cody emailed from Morocco. Although there have been several such competitions in the US and Europe, this was the first in Africa.
Eighteen multi-university teams from Morocco, Turkey, South Africa, several European countries, and the US made the cut to compete.
"The student-designed and student-built homes are evaluated in 10 different areas, ranging from energy efficiency to architecture to market appeal," he said.
Cody served as a juror for the market appeal category, working with Mohamed Lahrichi, an engineer from Casablanca, and István Nagy, from Hungary, who recently coordinated the Solar Decathlon Europe.
"I learned a great deal," Cody said of his role in the solar competition. "We found that the homes that incorporated the local building materials and traditions—thick walls and internal courtyards—were less expensive to build and easier to keep cool in the hot afternoons than several imported approaches. In short, the most expensive entries were not the best."
Cody's Fulbright runs through August 2020, when he will return to campus and teaching students chemistry at Lake Forest College.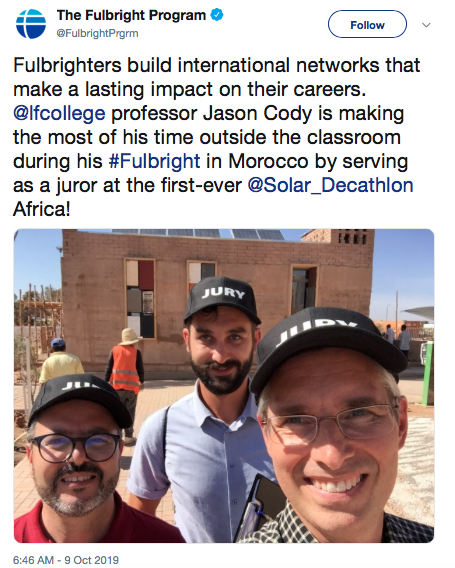 Fulbrighter and Professor Jason Cody (right) judged college students' solar home designs in a competition in Africa, which was picked up by the national Fulbright program and shared on Twitter.