<div style="background-image:url(/live/image/gid/84/width/1600/height/300/crop/1/45642_FIYS_Field_Trip.rev.1531246209.jpg)"/>
<div style="background-image:url(/live/image/gid/84/width/1600/height/300/crop/1/5986_screen_shot_2016-11-30_at_3.27.37_pm.rev.1480543045.png)"/>
<div style="background-image:url(/live/image/gid/84/width/1600/height/300/crop/1/45667_Academics.rev.1531425285.png)"/>
Lake Forest College Official Partner of the Chicago Humanities Festival
Lake Forest College's Humanities 2020 Mellon Grant is a partnered organization in this year's Chicago Humanities Festival supporting conversations with authors Ibram X. Kendi and Eli Saslow.
Ibram X. Kendi: How to Be an Antiracist
Saturday, November 2, 2019
1:00pm – 2:00pm
International House, 1414 E. 59th Street Chicago, IL.  60637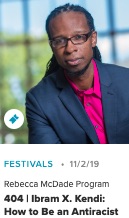 The opposite of racist isn't "not racist," it's antiracist. The difference may seem like a semantic one, but National Book Award-winning historian Ibram X. Kendi's new book reveals the wide gap between passivity and activism when it comes to eradicating racism. In How to Be an Antiracist, Kendi, director of American University's Antiracist Research and Policy Center, and author of Stamped from the Beginning: The Definitive History of Racist Ideas in America, bridges this gap with concrete steps we can all take to create a more just society. With race dominating conversations both personal and political, familial and national, Kendi's conversation with Mother Jones Race and Justice reporter Jamilah King will provide crucial insight into the power we all have to fight racism.
Eli Saslow: Rising Out of Hatred.
Wednesday, November  6, 2019
7:00pm – 8:00pm
Francis Parker School, 330 W. Webster Avenue Chicago, IL. 60614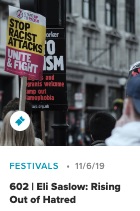 In his new book, Eli Saslow, Pulitzer Prize-winning reporter at The Washington Post, has turned his attention to one of today's most pressing issues: The resurgence of mainstream white nationalism. In Rising Out of Hatred, Saslow tells the story of Derek Black, son of the man who created the neo-Nazi site Stormfront, and godson of Ku Klux Klan figurehead David Duke. Heir apparent to the American white nationalist movement, Black experienced a radical transformation after being forced to examine his beliefs by his college classmates. With nuance and narrative verve, Saslow teases out how Black's evolution from white nationalist to antiracist activist exposes the powerful grip white supremacy has over its adherents, as well as the ways America can resist and undo its harms. Saslow will be in conversation with The New Yorker's Andrew Marantz.
Learn more about all of the events at this year's Chicago Humanity Festival 2019: The Year of Power.