<div style="background-image:url(/live/image/gid/198/width/1600/height/300/crop/1/50546_Middle_South_drone1.rev.1554236092.jpg)"/>
Welcome, new students!
The Lake Forest College community is pleased to welcome 395 first-year students and 96 transfer students to campus for the 2019–20 academic year. 
The Class of 2023 was selected from a pool of more than 4,746 applicants and are a diverse and talented group representing 33 states and 51 countries. They are academically strong with an average 3.7 high school GPA.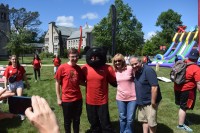 The sun shone brightly on Friday for new student move-in, where student-athletes, faculty, and staff helped the newest Foresters and their families settle into residence halls and life on campus. Hundreds gathered at the Forest Fest Picnic on the Middle Camps Quad, enjoying games, activities, and lunch. New students and their families chose from several planned activities that afternoon and evening, including community gatherings, a parent welcome reception, and an ice cream social.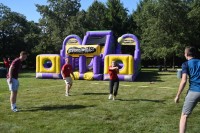 Saturday marked the official Orientation kick off, with sessions for parents and families, group activities, and good-byes. After the families departed, students had fun at the traditional block party on North Campus, followed by a featured speaker and comedy show in the Mohr Student Center.
Plenty of activities and opportunities to make new friends filled Sunday and Monday before returning students moved in. Tuesday dawned bright for the traditional new-student Chicago Day, where students headed downtown with their First-Year Studies class, transfer student group, or international group for a day in the Windy City.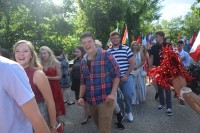 Orientation culminated Wednesday with the official Matriculation Ceremony at First Presbyterian Church of Lake Forest followed by a lively procession through campus as returning students, faculty, and staff cheered on the newest members of the Forester community.