<div style="background-image:url(/live/image/gid/95/width/1600/height/300/crop/1/42360_HOMECOMING_darker.rev.1523377981.jpg)"/>
Communications and Marketing
Enhancing the connection between international students, faculty
The International Student Organization (ISO) held a mingling session with international faculty on February 19 in which faculty members shared memories from their college days, traditions from their homes, and their journey to Lake Forest.
This event aimed to enhance the connection between international students and faculty members who have been in their shoes. 
"For me, the session really enforced the classic ideal of a small liberal arts college where you can get to know your faculty on a more personal level, which is very important to me," said Hanna-Liisa Sarekanno '21 of Estonia, who is doing a self-design major in interactive media design. "I found it fascinating to hear about all the twists and turns in life that the professors went through to end up in the U.S. and at Lake Forest College."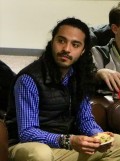 A total of four professors with different expertise and ethnicity attended the evening event in the Skybox and shared their experiences with students: Professor of Biology Shubhik DebBurman, Associate Professor of Mathematics and Computer Science Enrique Treviño,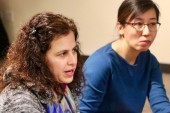 Associate Professor of Spanish Gizella Meneses, Associate Professor of Finance Dimitra Papadovasilaki, and Associate Professor of Chinese Ying Wu.
"The international faculty mingling session is only the first step toward ISO's goal of bringing our campus community together and taking full advantage of the perks of studying at a small liberal arts college," said ISO President Naomi Morales '20, a double major in economics and international relations from El Salvador. 
—Photos and story by Alaia Singh '21