<div style="background-image:url(/live/image/gid/12/width/1600/height/300/crop/1/30405_area_studies.rev.1454625046.png)"/>
Career Pathways: making an impact
Have you ever considered mentoring a student as they explore career options? The highly anticipated Career Pathways are opportunities to engage with students, share your knowledge and experience, and make a substantial impact in the Forester community.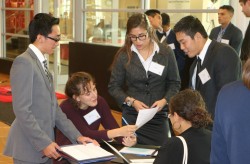 Career Pathways are communities comprised of students, professors, coaches, alumni, employers, trustees and friends of Lake Forest College. Connecting students to a broad network helps them identify career opportunities they wouldn't otherwise know existed. This community serves as a resource throughout their careers.  

Katherine McCauley Najjar '02 mentors business students at the College, and frequently returns to campus to talk about her experiences at William Blair and PepsiCo. "The critical component to getting any job and getting your foot in the door, especially at a large company, is through personal contact, a mentor, and alum," she said.. "Making those relationships is key to success. Bringing alumni back to campus to meet with students allows for these relationships to develop. Making meaningful connections with alumni in their field of interest is one great tools students can use to find rewarding jobs right out of school."

If you are interested in participating in Pathways events, which might include networking at Chicagoland gatherings and mentoring current students, please contact the Career Advancement Center at careers@lakeforest.edu or 847-735-5235 for more information.