<div style="background-image:url(/live/image/gid/95/width/1600/height/300/crop/1/42360_HOMECOMING_darker.rev.1523377981.jpg)"/>
Communications and Marketing
Women in Biz holds successful panel
Women in Biz, a student organization, sponsored an important and well-attended networking event and panel discussion on campus on February 7.
At this event, students had the opportunity to meet and connect with influential speakers from a variety of career pathways. 
Panelists included:
Jessica Coleman '89 (Vice President of the Investment Management Division at Goldman Sachs)
Dianne Michels (Artist of Possibility, Possibility Partners)
Margaret Resce Milkint (Managing Partner, The Jacobson Group)
Celena Roldán (CEO, American Red Cross of Chicago and Northern Illinois)

 
Speakers touched upon their work experience and skill set, followed by a question-and-answer session. An emphasis was made on how women can be successful in a field still dominated by men, and how they have seen diversity and inclusion practices changing over the past years. 
"This event itself was, primarily, for economics, business, and finance students to learn what the work-world is like in these areas," said Susan Guo '21, who is double majoring in business and studio art and minoring in entrepreneurship and innovation. "Students who attended this event had the opportunity to make professional connections that will be beneficial for future internships and jobs."
The panel was organized by Assistant Professor of Finance Dimitra Papadovasilaki and Associate Professor of Economics and Business and Chair of Economics, Business and Finance Amanda J. Felkey.
—Alaia Singh '21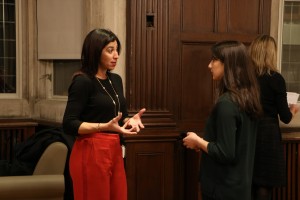 Women in Biz talk
Students attended a panel presentation Women Succeeding in Business. Panelists were Jessica Coleman '89 (VP of Investment Management Division, Goldman Sachs), Dianne Michels (Artist of Possibility, Possibility Partners), Margaret Resce Milkint (Managing Partner, The Jacobson Group), and Celena Roldán (EO, American Red Cross of Chicago & Northern Illinois). Panelists discussed how women can be successful in a field still dominated by men, and how they have seen diversity and inclusion practices changing over the past years.    –Photos by Hajar Habbal '20