<div style="background-image:url(/live/image/gid/12/width/1600/height/300/crop/1/30405_area_studies.rev.1454625046.png)"/>
Celebrate with us on Forester Day, February 28
Forester Day is Thursday, February 28, 2019. Join us on-campus at the Durand Art Institute to take part in the celebration from 4:30 to 6:30 p.m. Forester Day is the day alumni, parents, and friends share, celebrate, and advocate for all things Forester. Fourteen other Forester gatherings will be taking place at the same time all across the country.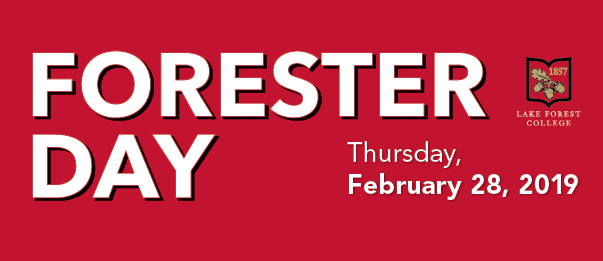 February 28 is our fourth annual Forester Day and it has become a highly anticipated tradition. It's the day alumni, parents, and friends share, celebrate, and advocate for all that has made us this unique community of Foresters. The occasion will be marked with more than 15 Forester gatherings across the country, and it will culminate in a 24-hour online celebration.

Annalise Parks '12 is hosting approximately 50 Foresters at the University Club in Washington D.C. "This event provides a great opportunity to catch up with old friends and form new connections, receive an update on the state of the College, and provide our support for the College's initiatives," according to Parks.

Joining Parks in hosting Forester Day events are Jemia Cunningham-Elder '09 in Boston, Joan Zigerell Bewley '73 and Doug Bewley '73 in Cleveland, Sara Finesilver '04 and Caroline Watson '09 in Denver, Serre Murphy '88 in Miami, Eddie Dobernig '14 and Vicki Angel Hagan '88 in Milwaukee, Allie Johnson '07 in the Twin Cities, Martino Moore '99 and Mason Zuniga '16 in New York, Kristin Hurley Carkeek '85 and Jim Carkeek '87 in Phoenix, Rudy Wise '03 in Philadelphia, Riley Hutchinson '12 in San Francisco, Kristin Graham '94, Jody Buck '13, and Richard Baynes '08 in Seattle, Bea Estay '17 in St. Louis, and joining Allie Parks '12 in D.C. are Theresa Converse '12, and Will Pittinos '06.

And, in our own Chicago, local Foresters will be waiting for you on campus and in the city!

This year, the College's Gummere Fellows will join the festivities. These students are chosen from a pool of applicants to represent the College, and Spike, at admissions receptions and alumni events on campus and around the country. They demonstrate and share, as does Spike, a genuine pride in Lake Forest.  
As enthusiasm for these national events builds with each year, we've watched the events' guest lists grow. Celebrating what makes the College unique, and reconnecting our special community remains important. According to Parks, "I remain involved with this event and the Alumni Board because I value the unique opportunities that being a student at Lake Forest afforded me." It's Parks' spirit that makes this day special, and we hope you will join the Forester Day celebration on February 28, whether you attend a gathering near you, or follow the day online.