<div style="background-image:url(/live/image/gid/95/width/1600/height/300/crop/1/42360_HOMECOMING_darker.rev.1523377981.jpg)"/>
Communications and Marketing
A peek through the window into students' designs
When graphic design students created book jackets in class last fall, they never expected their work to be showcased in the front window of a local book store.
But that's exactly what happened when the owner of Lake Forest Book Store put students' work in her store's front display windows for one week in January.
Selecting books of their own choosing, students in Margaret Coleman's Graphic Design and Advanced Graphic Design classes created a cover, spine, back cover, and inside flaps to provide a "new face" to their selections. 
"We talked about how we hear the saying, 'don't judge a book by it's cover,'" Coleman said, "but in this case we turned that around and emphasized the importance of indeed judging a book by it's cover."
The assignment allowed the students to explore the plot and design the book covers to what they believed would depict the stories in a more meaningful way.
"You need to captivate potential readers with their first glance and give them an idea about the book's story with as much visual information as possible," Mason Wallis '19 said. Wallis explored these elements while redesigning the covers for the Game of Thrones series.
For graphic designers, making a book cover intriguing—yet not giving away the story—is tricky.
KeAnthony Thompson '19 said he enjoyed "playing with unknown information that can later become known" while working on this project. As a fan of the I Am Number Four series, Thompson included hidden messages on his covers for readers to discover on their own.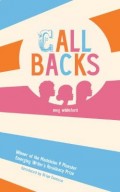 Morgen Malte '19 designed a new look for Callback, written by the College's 2016 Madeleine P. Plonsker Emerging Writer's Residency Prize winner. Her design was selected by the author, Meg Whiteford, for the final printing of the book.
"It was amazing to have my cover design chosen for the Plonsker winner's book," said Malte, who hopes to pursue a career in graphic design. "It wasn't something I really expected to come out of a project for a class. It's going to be a tremendous help to have something that's already published in my portfolio."
—Dipashna Acharya '22