<div style="background-image:url(/live/image/gid/198/width/1600/height/300/crop/1/50546_Middle_South_drone1.rev.1554236092.jpg)"/>
Richter Program provides deeper understanding of research
A group of 45 first-year students participated this summer in the 2019 Richter Scholar program conducting collaborative research with faculty from diverse disciplines, including art, biology, mathematics, philosophy, psychology, religion, communication, and finance.
Through this signature Lake Forest College program, a select group of first-year students annually spend four to 10 weeks collaborating with faculty on original research—an unusual opportunity for undergraduates at most colleges and universities.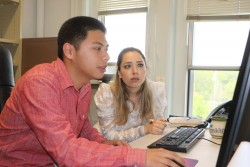 This summer, Enrique Salonga '22 worked closely with Assistant Professor of Finance Dimitra Papadovasilaki researching how emotional intelligence affects financial risk-taking.
"There is not much research done in this area, so this research project is very important because understanding our emotions and how we react under different situations can, to a certain degree, alleviate the existence of financial crises," Papadovasilaki said.
Having the opportunity to collaborate on this important research and learn how to use financial data was a pivotal moment for Salonga. 
"I got this whole, new experience working one-on-one with a professor, which is a completely different type of learning," he said. "Having this research opportunity early on is a good résumé builder. It's going to open doors for me for future internships and jobs."
Assistant Professor of Chemistry Nilam Shah values the time she spends each summer working with Richter Scholars. "Our program helps students understand the entire research process, from how we come up with a study idea, to how to use the instruments in the lab, to the final steps of researching and presenting your work," Shah said. "I enjoy seeing how the students apply everything they learned in understanding how research works to help them figure out where they want to go with their careers and what they want to focus on."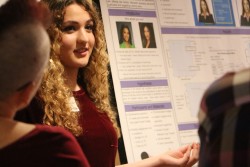 To culminate their project, each Richter Scholar presents their research during a daylong public symposium to which other students, faculty, staff, parents, and community members are invited. On campus to see firsthand the results of their students' summer research, Forester parents, too, gain a deeper understanding of the value of this unique opportunity.
"No one ever really does research as a freshman. It's kind of unheard of," said parent Jennifer Reyes. "For my son to have that opportunity, I think, was fantastic."
Christian Reyes '22 worked with Associate Professor of Mathematics and Computer Science Enrique Treviño on coding a mathematics algorithm—a career-making opportunity for the computer science major.
"If you told me at the beginning of the school year that I was going to have this opportunity right after my freshman year, I definitely would not have believed it," Christian Reyes said. "I was really lucky to be able to do mathematical research at this point in my academic career."
Kealey Humphrey '22 had a similar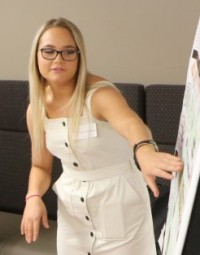 experience working with Professor of Biological Sciences Shubhik DebBurman researching Parkinson's disease. "I definitely did not think I'd be doing this kind of research my freshman year," she agreed, "but that's one of the reasons I like Lake Forest. You can do research as an undergraduate here—and your professors will actually reach out to you so you can have that experience in your freshman year."
Assistant Professor of Art David Sanchez-Burr finds the Richter Program to be "a way to get close to the students and be able to extend to them the type of knowledge that a professor attains over time—the type of knowledge that is not acquired in a classroom setting.
"It's an extension of learning through an experiential component."
That was evident to parent Keith Humphrey who witnessed daughter Kealey's progression over the weeks she worked on her research project. "Kealey got what I would refer to as an in-field, real feel for doing research," Keith Humphrey said. "It hasn't been just a couple of hours here and a couple of hours there. It's been a large, vast experience that helped her grow and helped her see what doing research is really like."