<div style="background-image:url(/live/image/gid/22/width/1600/height/300/crop/1/29646_internshipcropped2.rev.1451945094.jpg)"/>
<div style="background-image:url(/live/image/gid/22/width/1600/height/300/crop/1/42258_header2.rev.1522425093.png)"/>
<div style="background-image:url(/live/image/gid/22/width/1600/height/300/crop/1/29644_chicago_museums.rev.1451945214.jpg)"/>
<div style="background-image:url(/live/image/gid/22/width/1600/height/300/crop/1/29643__train.rev.1450734095.jpg)"/>
<div style="background-image:url(/live/image/gid/22/width/1600/height/300/crop/1/42260_header4.rev.1522425797.png)"/>
<div style="background-image:url(/live/image/gid/22/width/1600/height/300/crop/1/29870_header-museum.rev.1522770032.png)"/>
<div style="background-image:url(/live/image/gid/22/width/1600/height/300/crop/1/29881_header-skylinecropped.rev.1522426309.png)"/>
<div style="background-image:url(/live/image/gid/22/width/1600/height/300/crop/1/42259_header.rev.1522425160.png)"/>
Chicago Fellows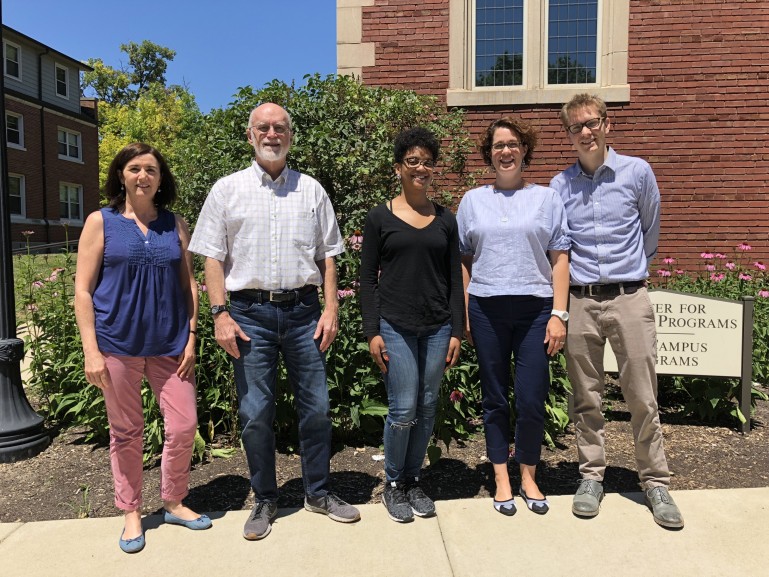 The Chicago Fellows meet regularly and collaborate to develop specific project goals. During their tenure as Fellows, they teach a course oriented toward their research project. Fellows have the opportunity to work with a student Chicago Fellows Research Assistant. At the conclusion of the Chicago Fellows year, faculty produce a digital outcome or deliverable that will become part of Digital Chicago's online website and digital repository (currently under development). Fellows present their work to the campus community in the fall semester with the Digital Chicago Seminar, and also will seek opportunities to share their work with the Chicago area public more broadly. 
Chicago Archaeological Fellow, 2015

–

2018
Rebecca Graff, Assistant Professor of Anthropology
Rebecca Graff continues each year as the Chicago Archaeological Fellow for all four years of the Digital Chicago project. 
During Summer 2018, students in SOAN 205: Archaeological Field School will serve as field crew for an archaeological excavation at the 1856 Gray House in Chicago's Old Irving Park neighborhood. Known for his vocal stand against slavery, John Gray was the first Republican Sheriff of Cook County (1858-1860). In the years after his death, popular narratives arose designating his former home a station on the Underground Railroad. The Archaeological Field School introduces students to the discipline of archaeology, with an emphasis on fieldwork and excavation. Find out more about our Summer Programs. 
In the summer of 2015, Graff inaugurated the Archaeological Field School (SOAN 205) at Chicago's Charnley-Persky House, an urban archaeological site at which she began working in 2010. In fall 2015, students in her historical artifact analysis course (SOAN 225) learned how to analyze the artifacts recovered from this excavation. Graff's Chicago Fellows Research Assistant, Anne Marie Brugioni '16, assisted her in the creation of a temporary historical archaeology lab for use by students in field school and lab-based courses. Students use the lab to conduct research and curate materials for both virtual and material exhibits of excavation finds. "The Charnley-Persky House Archaeological Project" on Digital Chicago's project repository maps the points of origin in Chicago and world-wide for artifacts found at the site.
Chicago Fellows 2018
Annie Barry, Assistant Professor of Music
"Irish Music in Chicago"
This project will trace the history of Irish music in Chicago since the late 1800s. It would investigate the key musicians and collectors, examine the impact this had on the long-term survival of the tradition on both sides of the Atlantic, and explore the presence of this indigenous music in Chicago today.
Rudi Batzell, Assistant Professor of History
"Power, Distinction, Display: Excavating Elite Social Networks in the Midwestern Metropolis, 1850–1950"    
In this project, Rudi Batzell will build network databases of social ties showing participation in major voluntary organizations, clubs, charities, and associations to create social network visualizations. This reconstruction of historical social networks allows us to see how Chicago's elites organized their social life around changing cultural, political, and economic institutions. The Gephi software tool creates visual representations of social networks that allow us to identify key individuals and institutions, as well as sites where disparate social neighborhoods were bridged.
Liz Benacka, Assistant Professor of Communication
"Drag in the Windy City: The Political History of Gender Performance in Chicago"
Her project seeks to uncover the legacy of drag in Chicago politics. The first gay rights' organization in the US was founded in Chicago by Henry Garber in 1924, and gay speakeasies featuring female and male impersonators thrived on both the north and south sides over the course of the city's history. She will document Chicago's longstanding tradition of gender performance, including Joan Jett Black, a black drag queen who ran for Mayor of Chicago in 1991 and President of the United States on the Queer Nation Party ticket in 1992, in order to preserve the memory and political potential of drag in the Windy City. 
Courtney Pierre Joseph, Assistant Professor of History
"The Sanctity of Stories: Haitian Churches and Oral Histories in Chicago"
There has been a long Haitian presence in Chicago, beginning with the founder, Jean Baptiste Pointe DuSable. A diasporic community formed in the city during the late 20th century, and churches have been an important part of this communal development. This project, as part of a larger study on the history of Haitians in Chicago, will map out the various locations of Haitian churches across the city while also uncovering the stories of the Haitian people who worship there. Through recording their oral histories, this project helps shed light on how and why a Haitian community formed in Chicago. 
W. Rand Smith, Irving L. and Fern D. Young Presidential Professor of Politics, Emeritus
"Keeping Tradition Alive: Chicago's Folk Music Community in the 1960s"
Rand Smith, Irving L. and Fern D. Young Presidential Professor of Politics, Emeritus, will study the work of Chicago photographer Raeburn Flerlage (1915–2002). Using the extensive collection of photographs and other materials at the Chicago History Museum, this project will focus on the "life and times" of the Chicago folk music community as Flerlage documented it during the 1960s at such venues as the University of Chicago Folk Festival and the Old Town School of Folk Music.
Chicago Fellows 2017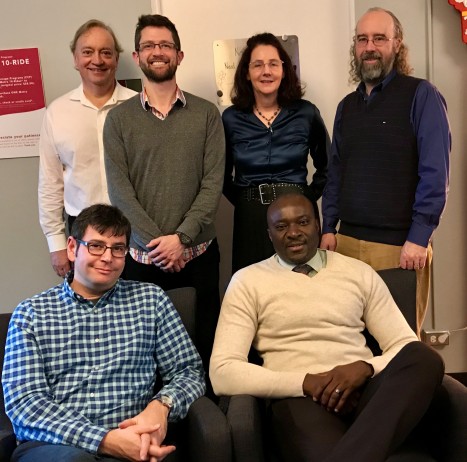 Left to right, back row: Richard Pettengill, Brian McCammack, Siobhan Moroney, Ben Zeller; front row: Josh Corey, Desmond Odugu
Joshua Corey, Associate Professor of English
"Lightweight: A Jewish Boxer in Chicago"
A digital essay on Barney Ross, Josh Corey's project examines the son of a murdered rabbi who became lightweight and welterweight boxing champion of the world in the 1930s. His study of Ross's life explores the complex relation between Chicago, Jewishness, violence, and the author's family history.
Brian McCammack, Assistant Professor of Environmental Studies

Photographer Raeburn Flerlage produced a vast photographic archive documenting Chicago's blues, jazz, and folk music scene in the 1960s. Along with his photographs of Chicago's South Side, including the built environment and cultural events like the annual Bud Billiken parade, Flerlage's work offers insight into the African American community in the midst of the post-World War II Great Migration. This project digitally maps the South Side of Chicago in the 1960s, capturing a new dimension of black Chicago.
Siobhan Moroney, Associate Professor of Politics
In 1945, the Chicago Tribune held a design competition for modest family homes. Most of the nearly 1,000 submissions are lost, but a few designs were published, and a small number were built. Siobhan Moroney, associate professor of politics at Lake Forest College, shares insight into what Americans expected in their postwar homes, while the changes in the built homes indicate how American housing preferences have evolved since then.
Desmond Odugu, Associate Professor of Education
"Restricted Chicago: Racial Restriction and Housing Discrimination in the Chicagoland Area"
Odugu will continue his work on the "Restricted Chicago: Housing Discrimination and Educational Inequities in Urban America" project, further enhancing the narratives and information arising from his fruitful 2016 research. 
Richard Pettengill, Associate Professor of Theater
"Shakespeare in Nineteenth-Century Chicago: An Evolving Cultural Identity"
Pettengill plans to study the history of theater in Chicago, exploring this theme through the ongoing relationship between Chicago and Shakespeare. 
Ben Zeller, Associate Professor of Religion
"Chicago's Shifting Synagogue Landscape"
How have changes in the landscape of Chicago's Jewish community influenced area synagogues? And how can digital mapping technology reveal some of these shifts? This project envisions the creation of an interactive map of Chicago's earliest synagogues, and how they have moved, merged, and divided over time.
Chicago Fellows 2016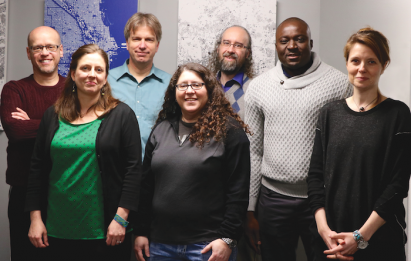 Chicago Fellows 2016: Jim Marquardt, Rebecca Graff, Don Meyer, Linda Horwitz, Ben Zeller, Desmond Odugu
Linda Horwitz, Associate Professor of Communication
"Autopsy of the Pledge of Allegiance"
Horwitz's project situates the Pledge as an artifact of the 1893 World's Fair. Horwitz queries its relevance as a ritualistic practice for America's schoolchildren.
Chloe Johnston, Assistant Professor of Theater
For her project, Johnston mapped and examined the genealogy of ensemble-generated theater in Chicago, tracing it to its roots in the theater classes taught by Neva Boyd at Hull House at the turn of the twentieth century. Students participated in workshops with current artists whose work is inspired by Boyd's methods and restaged Boyd's original exercises to build an online repository of these techniques.  
James Marquardt, Associate Professor of Politics
"Jane Addams: Chicago's Pacifist"
Jane Addams and the peace movement during the World War I era are the focus of Marquardt's project, which examines the Chicago-based activities of the movement, for which Addams won the Nobel Peace Prize in 1931. Using his students' research, Marquardt presents timelines enriched with primary documents that trace Addams' emergence as a leader and activist dedicated to pursing a new world order.
Donald Meyer, Professor of Music
"Souvenir Music from the World's Columbian Exposition of 1893"
Meyer's 2016 project presents historic parlor music created to commemorate the 1893 Fair. Travel back in time and place to the White City and the Midway Plaisance as you listen to digital versions of music composed to capture the essence of "Fair craze."
Desmond Odugu, Associate Professor of Education
"Restricted Chicago: Racial Restriction and Housing Discrimination in the Chicagoland Area"
For his Chicago Fellows research, Odugu intends to explore the history of housing inequities pertaining to the economic divide between the inner city and the suburbs (including redlining and the federal, state and local housing policies; restrictive covenants in real-estate deeds; panic peddling by real-estate practitioners; etc.).
Ben Zeller, Associate Professor of Religion
This project presents immersive virtual tours of three houses of worship in Chicagoland. These digital experiences explore the history, architecture, spiritual background, and liturgical uses of the spaces.
Chicago Fellows 2015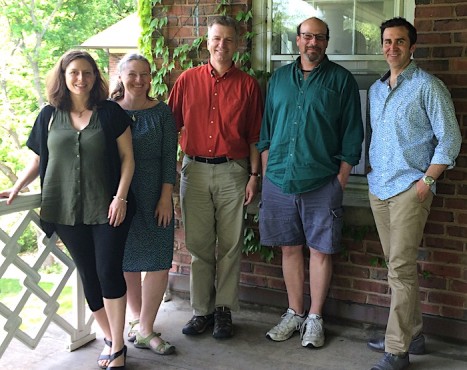 Donald Meyer, Professor of Music
Meyer's project explores the silent film practice of Progressive Era Chicago. Using archives at the Chicago Public Library, Meyer and Chicago Fellows Research Assistant Sydnie Bivens '17 located several short films that were made in Chicago during this period. Watch and listen to the film "Max Wants a Divorce," produced in 1916 by Chicago's Essanay Studios, and set to a score by Meyer based on music typical of what was heard in Chicago-area movie theaters in the 1910s.
Benjamin Goluboff, Associate Professor and Chair of English
"Two Short Plays by Kenneth Sawyer Goodman"
Goluboff's Chicago Fellows project presents digital editions of plays by the man for whom the Goodman Theater is named. Kenneth Sawyer Goodman (1883-1918) was the son of a Chicago timber baron and a leading light in the Little Theater movement of the pre-war decades. Chicago Fellows Research Assistant Ioana Cornea '16 and Goluboff studied Goodman's papers in the Newberry Library, as well as looking at materials about the Little Theater movement in Lake Forest College's Special Collections.  
Holly Swyers, Associate Professor of Anthropology and Chair of Sociology and Anthropology, Chair of Urban Studies
Swyers and Chicago Fellow Research Assistant Sonia Messar '16 investigated how disease outbreaks in Chicago beginning in the nineteenth century created public panics, affected city infrastructure decisions, and contributed to the ideas of public health that carry into the present day. Swyers' Fall 2015 medical anthropology course developed the game as a public health initiative to teach people the syndemic theory of disease. Dive into this interactive story/game that examines Chicago's public health crises across time.  At the end of each story, you will get answers to the questions: Why did your character die? What features of public health and medical beliefs contributed to their demise?
Miguel de Baca, Associate Professor of Art History
"The Art World in Downtown Chicago, Then and Now"
A hundred years ago, Chicago was casting off the fetters of artistic provincialism and beginning to embrace modernist aesthetics. Nowadays, Chicago is home to the top-rated art museum in the world, a preeminent annual contemporary art exposition, and some of the most visionary artists working in the industry. His project brings together, as an interactive map, the histories and legacies of people, places, and institutions at the center (and the dynamic margins) of this creative city. De Baca worked with Kayla Whitney '16 as his Chicago Fellows Research Assistant.