<div style="background-image:url(/live/image/gid/20/width/1600/height/300/crop/1/29606_internships_and_experience_1.rev.1448900255.jpg)"/>
<div style="background-image:url(/live/image/gid/20/width/1600/height/300/crop/1/40782_science.rev.1513697713.png)"/>
<div style="background-image:url(/live/image/gid/20/width/1600/height/300/crop/1/40783_law.rev.1513697721.png)"/>
<div style="background-image:url(/live/image/gid/20/width/1600/height/300/crop/1/40779_31485_business.rev.1513697684.jpg)"/>
<div style="background-image:url(/live/image/gid/20/width/1600/height/300/crop/1/35592_shot02-041_v2.rev.1487090405.jpg)"/>
<div style="background-image:url(/live/image/gid/20/width/1600/height/300/crop/1/40469_Speednetworking3_edited.rev.1510946462.jpg)"/>
<div style="background-image:url(/live/image/gid/20/width/1600/height/300/crop/1/40781_art.rev.1513697706.jpg)"/>
<div style="background-image:url(/live/image/gid/20/width/1600/height/300/crop/1/40780_31484_finance_1.rev.1513697699.png)"/>
<div style="background-image:url(/live/image/gid/20/width/1600/height/300/crop/1/40467_Speednetworking2_edited.rev.1510942416.jpg)"/>
Major and Career Exploration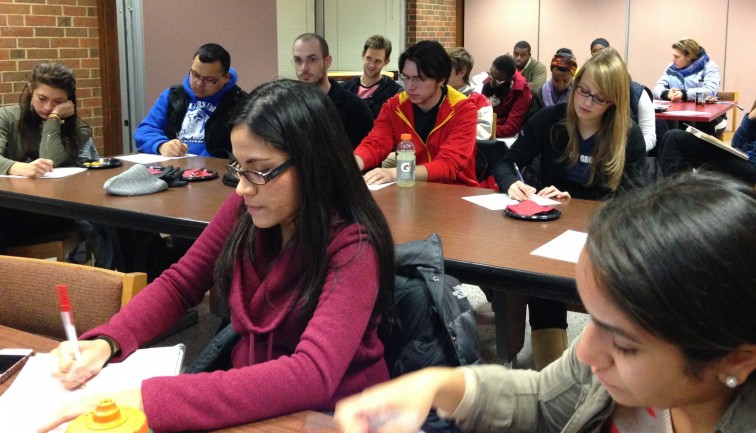 Students explore their career options at workshops hosted by the Career Advancement Center.
Graduation may seem far off, but starting your career plan now can help put you ahead of the competition and ensure you reach your goals.
Informational Interviewing

Informational (or occupational) interviewing just means sitting down with someone to learn more about what they do, how they got there, and what advice they can share "from the field." It's a low-pressure way to learn more about certain industries and jobs within that industry… and a great way to begin to get connected and build a professional network you can utilize later in your career development!

Click here for Informational Interviewing resources.

Courses

Sometimes the best way to learn about a potential occupational field or career path is to take a course in that area. Not only is it a great way to see if you "have what it takes" to excel in the subject matter, it can also help you think about the skills and qualities that fit best for you – as well as provide access to faculty who can help answer questions about careers in that field.

Click here for more information on academic paths and courses you can take at Lake Forest College.

Online Resources 

Online resources are everywhere! There is a wealth of information out there about the world of work, career "clusters" and industries, and the many occupations you can explore. Sometimes it helps to hunt down information about the environment, educational requirements, average salary, employment trends, etc. in narrowing down your choices.

Find some of our favorite career-related online resources in the ForesterLink resource library, especially in the Career Milestone Guides related to your exploration phase.

If you do all this work and feel ready to select a major you're excited to pursue – great! You can begin the step of building a career plan to use as a guide through your Lake Forest College experience.

If you're still feeling lost or confused, it might be helpful to focus a bit more on who you are, where you want to go, and what motivates you. We call this knowing yourself.

---

Helpful Links:

 

O*Net: Browse detailed descriptions of various career fields. 

Occupational Outlook Handbook (OOH):  Learn detailed information such as educational qualifications, job outlook, and salary range for a career field of interest.

 
Your career advisor is here to help you define your destination at every step of the way. To talk to a career advisor, please schedule an appointment by calling the Career Advancement Center at 847-735-5235 or through ForesterLink.