<div style="background-image:url(/live/image/gid/6/width/1600/height/300/crop/1/30025_education.rev.1451945980.png)"/>
<div style="background-image:url(/live/image/gid/6/width/1600/height/300/crop/1/30028_english-_literature.rev.1452013046.png)"/>
<div style="background-image:url(/live/image/gid/6/width/1600/height/300/crop/1/30485_library.rev.1454952369.png)"/>
<div style="background-image:url(/live/image/gid/6/width/1600/height/300/crop/1/30027_self_designed_major.rev.1451946126.png)"/>
<div style="background-image:url(/live/image/gid/6/width/1600/height/300/crop/1/29871_papers.rev.1452013163.png)"/>
<div style="background-image:url(/live/image/gid/6/width/1600/height/300/crop/1/30024_area_studies.rev.1451945934.png)"/>
<div style="background-image:url(/live/image/gid/6/width/1600/height/300/crop/1/29873_header-aerial.rev.1450206652.jpg)"/>
Vaccinium corymbosum (Highbush Blueberry) Ericaceae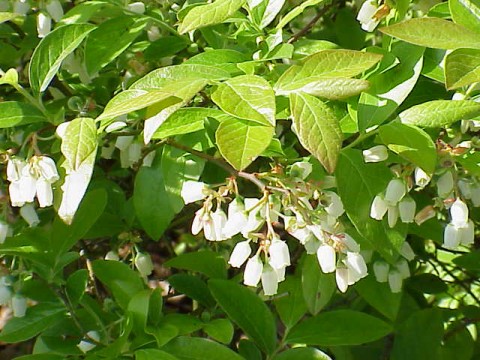 Description:
The Highbush blueberry is a slow-growing, multi-stemmed, occasionally monoecious, deciduous, shrub that grows 6 to 12 feet tall. 
Its is best known for its fruit.
It usually has simple, green leaves which are one to two inches long and turn bright red in the fall.
Leaves:
Deciduous, alternate, simple, elliptic or ovate
Hairs can be found on the veins beneath.
Flowers:
Most often white, but can sometimes be pinkish
Contain a cluster of flowers with 5 to 12 flowers in a cluster
Flowering occurs February to June
Small, urn shaped flowers
Have both male and female parts in a single flower
Pollination occurs primarily by bees
Flowering occurs February to June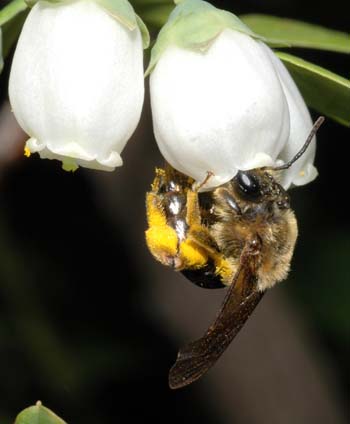 Fruit:
Fruiting occurs April to October.
Fruits are ¼ - ½" blue-black berries with many seeds.
A favorite of many humans and animals 

Ecological Characteristics:
Widespread in eastern North America, also found in the South and parts of the Northwest (i.e. image below)
Most common native habitat is in moist or wet peat of moderate to high acidity — such as marshes, swamps, lakes and flood-prone areas
Also found in drier areas — such as dunes and barrier beaches, rocky hillsides, oak woods, and pinewoods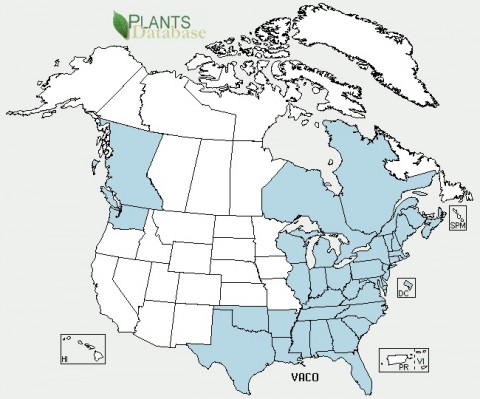 References
http://plants.usda.gov/factsheet/pdf/fs_vaco.pdf
http://plants.usda.gov/core/profile?symbol=VACO&mapType=nativity
http://www.abnativeplants.com/index.cfm/fuseaction/plants.plantDetail/plant_id/30/index.htm
http://msue.anr.msu.edu/uploads/images/4-10BlueberryBeeRUFUS.jpg
Page drafted by Kate Fridholm