<div style="background-image:url(/live/image/gid/6/width/1600/height/300/crop/1/30024_area_studies.rev.1451945934.png)"/>
<div style="background-image:url(/live/image/gid/6/width/1600/height/300/crop/1/30485_library.rev.1454952369.png)"/>
<div style="background-image:url(/live/image/gid/6/width/1600/height/300/crop/1/29873_header-aerial.rev.1450206652.jpg)"/>
<div style="background-image:url(/live/image/gid/6/width/1600/height/300/crop/1/29871_papers.rev.1452013163.png)"/>
<div style="background-image:url(/live/image/gid/6/width/1600/height/300/crop/1/30027_self_designed_major.rev.1451946126.png)"/>
<div style="background-image:url(/live/image/gid/6/width/1600/height/300/crop/1/30028_english-_literature.rev.1452013046.png)"/>
<div style="background-image:url(/live/image/gid/6/width/1600/height/300/crop/1/30025_education.rev.1451945980.png)"/>
English and Creative Writing
Hunting is Painting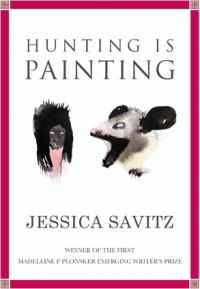 Buy the book from: 
Hunting is Painting
The debut collection from a bold new poet.
Hunting is Painting is the debut collection by Jessica Savitz, winner of the inaugural Madeleine P. Plonsker Emerging Writer's Residency Prize from Lake Forest College Press / &NOW Books. This haunting collection offers Savitz's world: where the cunning and ruthlessness of the hunter exactly parallels that of the artist-naturalist, an Audubonesque figure who uses a "gun as microscope" and for whom "Slaughtering the animal / Was like freeing him with a knife / From a little trap."
With baroque flair, these poems track the facts - of personal biography, of animals and their habitats, of artworks and artists - to strange lairs, bringing them with startling linguistic turns into higher resolutions, new configurations. Empathic and unflinching like Whitman, Savitz brings, with immense charm, a predatory fierceness to bear that startles and clears the eye, helping us to recognize that "the dying arrangement is a living being."
Savitz confront us with the necessary violence of sensemaking: we kill what we notice, and what we do not. But with these poems as guides, our gaze preserves the objects of the world even as it pierces them, and they in turn pierce us: "dying and animate / to direct light, or to create privacy."
Jessica Savitz is a graduate of Kenyon College and the Iowa Writer's Workshop, and she is the inaugural winner of the Madeleine P. Plonsker Emerging Writer's Residency Prize at Lake Forest College.
Literature
September World First Publication 8 1/2 x 5 104 pages
Paper ISBN: 978-0-9823156-2-0 0-9823156-2-7 $11.95