<div style="background-image:url(/live/image/gid/8/width/1600/height/300/crop/1/29975_header-aerialjpg.rev.1450460033.jpg)"/>
Stormwater Management & Water Usage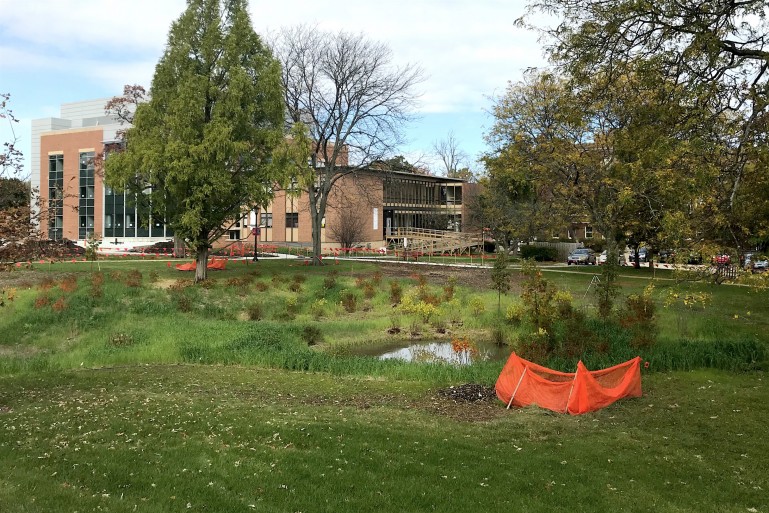 Ravine conservation is a priority at Lake Forest College. A key component of protecting the ravines involves minimizing erosion by installing green infrastructure to manage stormwater runoff. The college is also mindful of its overall water usage and continuously works on finding innovative ways to reduce it.  
Stormwater Management  
Lake Forest College has installed green infrastructure to manage stormwater runoff in order to reduce flooding and to reduce erosion of the ravine slopes.
In 2014, a small rain garden populated with native plant species was installed on South Campus. The rain garden is located next to Wasylik Field and was installed to manage stormwater runoff caused by renovations made to the Sports and Recreation Center.
In 2017, the Wetland Learning Lab was installed to contain stormwater runoff caused by the newly built Lillard Science Center on Middle Campus. The science center, which is projected to be completed in summer 2018, will feature a green rooftop garden, an outdoor classroom, and a greenhouse where native plant species will be grown. This rooftop green infrastructure is projected to aid further in managing the runoff.
Additionally, the use of de-icing salt has been reduced across campus to decrease the risk of the salt being washed into the ravines contaminating the water in the ravines and the lake.
Water Usage 
An artificial turf football field was installed in 1998 and was later replaced in 2017. The turf eliminated the necessity of watering, mowing, and fertilizing.
Water bottle filling stations were installed in the Sports and Recreation Center and in several South Campus residence halls in 2010 to encourage the use of reuseable water bottles. The new Lillard Science Center also has water bottle filling stations throughout the building.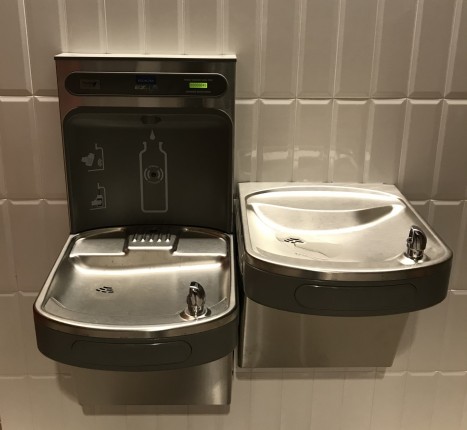 The faucets and showerheads in residence halls, public buildings, and academic buildings are low-flow to conserve water.
Beginning in 2013, cumulative water usage data was collected to establish a baseline that will enable the Campus Sustainability Committee to target further reductions in water usage.