<div style="background-image:url(/live/image/gid/8/width/1600/height/300/crop/1/29975_header-aerialjpg.rev.1450460033.jpg)"/>
Our Alumni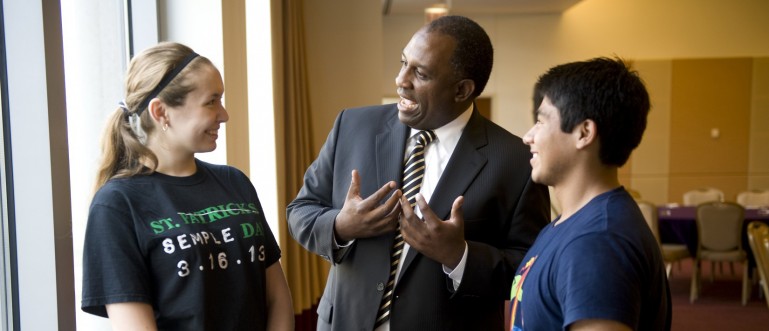 Earl Barnes '86, Vice President and General Counsel at Northwestern Memorial Hospital, hosts first-year students for lunch. Our Forester alumni are always doing nice things like that!
Even after they graduate, our 14,000-plus alumni continue to be actively involved with Lake Forest College and its students—both on and off campus. After all, they're Foresters forever.
Forester alumni serve as mentors for current students, as volunteer tutors in the Writing Center, and speakers on career panels for the Center for Chicago Programs and the Career Advancement Center. They host students in their homes or Chicago offices for pizza and networking. They are members of our Forester Athletic Network (F.A.N.) Club and attend Forester sporting events.
They love Lake Forest College and the opportunities it presented to them, so they make every effort to keep their Forester spirit pumping by giving students access to experiences that enhance their liberal arts education. 
Lori Tisinai '95 often hosts Lake Forest College students as interns at her company Computer Concepts U.S.A., Inc.
Where in the world are Foresters?
Our alumni span the globe. Most end up in the metropolis centers of the United States, with more than 5,000 residing in Chicago.
Other hot spots:
New York
Boston
Los Angeles
Washington, D.C.
Denver
Milwaukee
Tampa/Ft. Myers/Naples area
Miami/Ft. Lauderdale area
Detroit
St. Louis
Foresters in our regional networks like to get together throughout the year for baseball games, happy hours, and networking events. There's always a Lake Forest College story to share.
Attend a Lake Forest College admissions event in your area and, chances are, you'll meet a Forester or two from your hometown.